Pate ends drought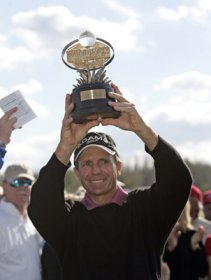 Hunter Martin/PGA TOUR/
WireImage
Bill Vilona @PensacolaNewsJournal.com
In golf, it's usually never good when making a big splash.
Unless you're Jerry Pate.
With a performance that rekindled memories and recaptured a winning feeling, Pate used a dramatic, final-hole, approach shot for an eventual one-shot victory in Sunday's Outback Steakhouse Pro-Am near Tampa, giving the Pensacola resident his first triumph on the PGA Tour's Champions Tour.
True to his flair, Pate celebrated the same way he did in 1982 at the Tournament Players Championship, his last win on the PGA Tour. He grabbed the tournament chairman – in this case, Chris Sullivan, founder of Outback Steakhouse – and jumped together into water that guards the 18th hole at the TPC of Tampa Bay.
"I think it's probably as significant as any win I've ever had," Pate said after returning to Pensacola Sunday night. "Maybe not for the golfing world because it's not a U.S. Open (which Pate won in 1976) or a U.S. Amateur (1974), or Players Championship. But for me, it's a huge win because of my dedication that I've had to come back and play golf after being away from it for 15-plus years, and to be out of the winner's circle for 24 years."